Kindle Romances
Title - Body Double
Author - Alane Hudson
Stars - 4
Two years ago, Andrea's fiancé deserted her on the day of their wedding, and in that moment distorted her view of marriage forever. Now she's being presented with sufficient money to solve all her monetary problems in order to perform as surrogate-bride for another woman, Andrea's doppelgänger, in her marriage to the wealthy and stunning Blake. All Andrea has to do is act the role of bride in the wedding then share a two-week honeymoon in Hawaii with Blake.

As silly as it is, the dread of being jilted re-emerge as the wedding day looms. Once she finally meets the handsome groom, her capacity to detach herself from the role turns out to be quite testing. The problem is will Andrea leave this strange pact with her heart undamaged once Blake's new wife demands her rightful
place at his side?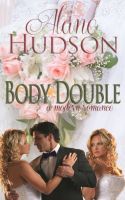 Body Double
is gratifying, spicy, amusing and a delightful story to read. The storyline has lots of action so the plot is not too obvious. Characters are well developed and dialogue natural. A recommended read.
For your next Kindle book, why not try a Short Story Collection
Next post -
Kindle Romances: Spontaneous